If you've been invited to a get-together where the dress code is cocktail, you might get a bit confused regarding which style should you get. Should I get a formal dress, should I keep it casual instead? The questions and concerns are endless, but so is our expertise! Buckle up ladies as we take you through the different options of elegant cocktail dresses that will go perfectly with any theme or event. And guess what, you'll probably get more than one wear out of it!
1- What's a cocktail dress?
First and foremost, let's answer the number one question we get when it comes to these types of events. What's a cocktail dress and what makes it different than an evening dress? Cocktail gowns are elegant dresses that can be worn for weddings, galas, dinner,… What makes them different from evening gowns though is their length. A cocktail dress is usual short, reaching the the knees. They are usually recommended for formal events, as they're not a elaborated as a maxi dress.
Nowadays, cocktail attire has made its way into the wedding scenery where more and more women have been leaning towards a shorted style. On that note, here are some of our top picks for an elegant, yet effortless look!
2- Elegant cocktail dresses: Wedding Edition!
Shopping for a dress may be one of each girl's favorite pastime, especially when done with a group of your favorite besties. Shopping trips and universally known as the number one activity any girl enjoys. When you're invited to an acquaintance's wedding, someone you're not very close to, a long extravagant gown might be over the top. That's why I advise you to choose a short dress! I know you might not feel like it but, hear me out: You can wear it more than once, you'll look elegant and chic, and most importantly it won't cost a fortune.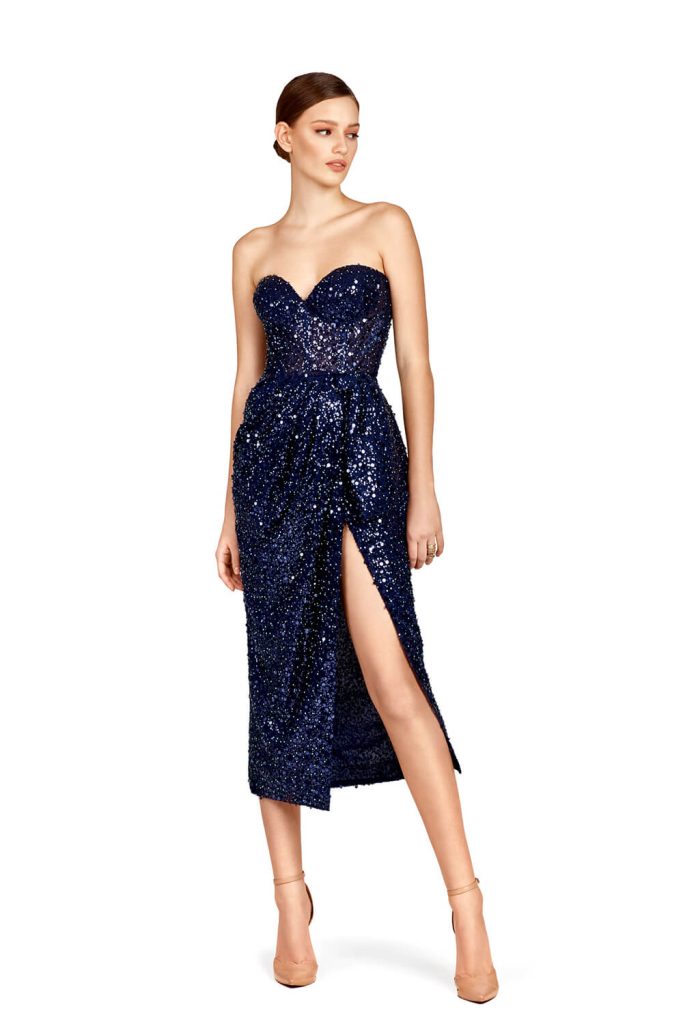 Check out this gorgeous mini gown with its sweetheart neckline and elegant bodice. You can wear this to a wedding, a casual party or dinner and it could also look perfect for a New Year's Eve event. Now remember, the key to nailing a simple look is: accessorizing! What elevates a plain dress is definitely choosing the right shoes and bag. Through on some huge statement earrings and you're good to go. You can also pair it with a classic blazer, pointed-toe heels and a briefcase and you'll look as a boss -lady !
Related Topic: Top 10 evening dresses at Esposa that will steal the show!
3- Glamorous yet elegant!
If you don't want to be extra but still want to look glamorous and girly, then a short ball gown is the way to go. I know we've previously said that a cocktail dress is a casual and elegant one, but it's all up to the occasion.
These dresses for example and very girly and glamorous with their tight corset bodice and thick straps. What adds a special touch to it is the tutu-like skirt of polka-dotted tulle. They can be a good option for a small wedding, a prom, a glamorous party, or even a gala dinner.
4- Steal the show casually
We recommend cocktail dresses for women who want to look nice but still simple and comfortable. This next dress is not a short one per say, but serves the purpose perfectly. It's longer than a cocktail dress usually is, more like midi length. It's lined with feathers at the bottom for a classy look.
Cinched around the waist is a sexy corset with thick straps. This tutu-like dress is the definition of sophistication and sexiness! The visible boning details add a feminine touch to this flirty look!
These are only a few options of cocktail dresses you can get for your next occasion. You can always shop the look your want either by visiting our stores or by shopping our collection online! Now that you've seen the styles that you can get, will you consider choosing a shorter style next time you get invited to that extended family wedding?
About Esposa
With a presence spanning over 30 years, Esposa is a luxury bridal boutique offering every bride-to-be a one-stop shop to find her perfect wedding look, from her dream gown to her wedding shoes and the accessories she needs.
Esposa Group includes the Esposa Privé stores located in Downtown-Beirut and Dubai where bridal creations offer the choice between a multi-brand selection showcasing the works of international designers including Viktor and Rolf, Vera Wang, Monique L'huillier, Marchesa and Esposa Privé's own couture brand, Esposacouture by Kristie Romanos, as well as a wide evening segment and a selection of shoes and accessories. Esposa Group encompasses also the Esposa boutiques located in Lebanon (Dbayeh and Ramleh Al Bayda), and Dubai, showcasing a multi-brand bridal collection in addition to its own couture brand, Plume by Esposa, an evening segment, and a selection of shoes and accessories.