Choosing abaya for women online is no easy task! That's because of the various abaya designs you will come across as you browse the internet. Gone are the days when abaya for women wasn't always your go-to thing. However, with the stylish abaya design and simple abaya designs, abaya for women is now all about style, comfort, and chic-ness.
 New abaya design
Modern Arab women who follow modest fashion love  abayas in various colors, designs, and patterns that are sophisticated and classy. They always opt for fancy abaya designs that make them look trendy and elegant at the same time.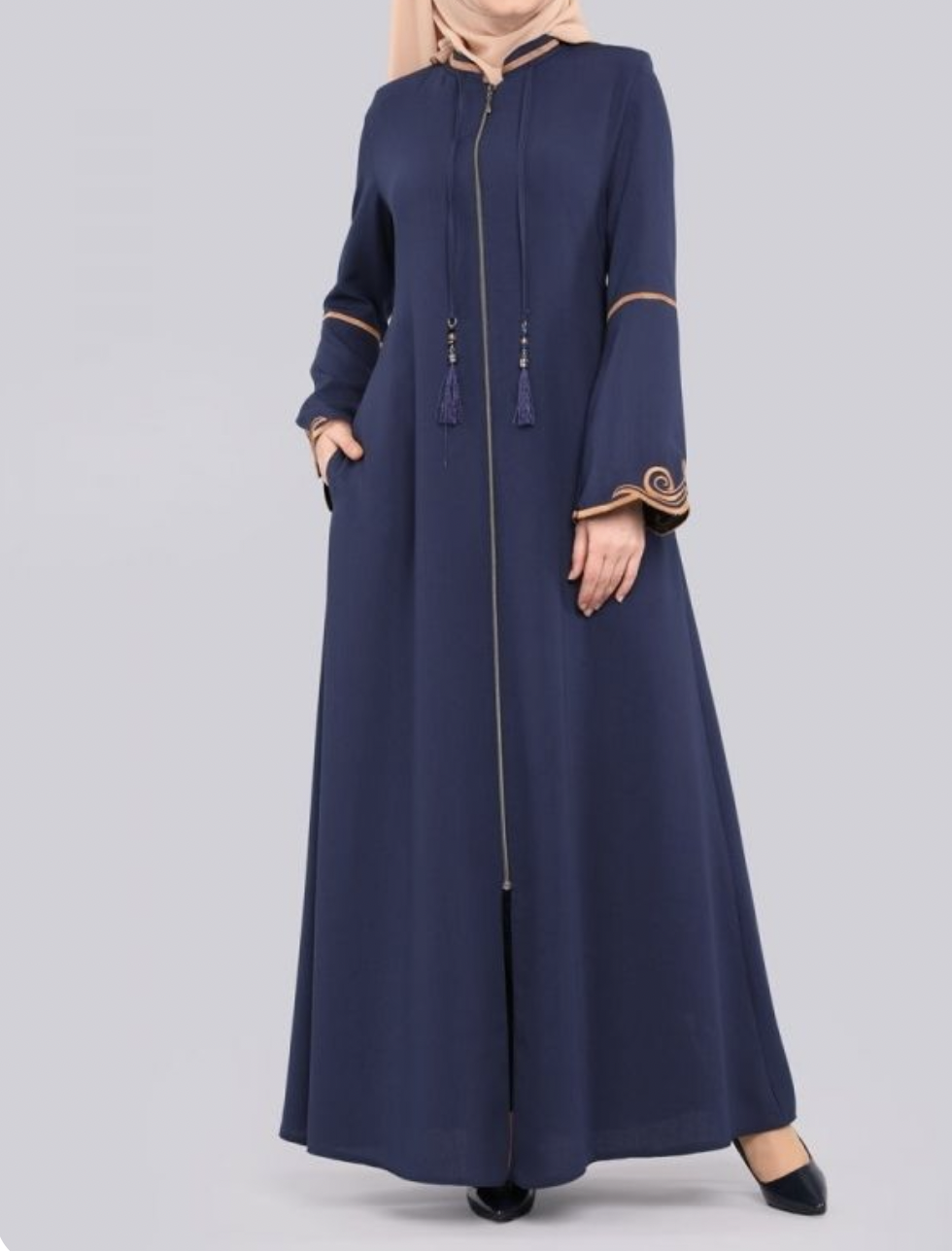 We used to see a few years ago abayas just plain black and traditional designs. Nowadays, you can find all sorts of styles with different colors, embellishments, and designs. So, whether you're searching for an abaya style dress for everyday wear or a special occasion, choosing the right one will compliment your look and figure!
Tips to choose the right abaya for you
Length: Length is the first thing to consider when choosing the right abaya for you. Pro tip: keep in mind that abaya should always reach the full length of your body and shouldn't be any shorter than a few centimeters below your ankle.
Fabric: always consider the season when buying abaya. Make sure to choose abayas with light fabric for the summer and opt for the heavy and layered abayas for the winter. One thing to always keep in mind, your abaya should make you feel conformable in the first place, then comes the design!
Sleeve length: When choosing the right abaya, make sure the sleeves are at wrist length unless the design states otherwise.
Color: Traditionally, the abaya for women are not made with flashy and bright colors. So, opt for neutral or dark colors to keep the look simple and minimalistic.
Always search for uniqueness
When searching for abaya for women, look for something that is unique and patterned. And most importantly, make sure the abaya you're buying highlights your personality.
How to choose the perfect abaya for your body type?
It's no denying that a fitted abaya does not look appealing to anybody, and is traditionally not the right way to wear them. Here are some tips that would help you choosing the right abaya for your body type:
A pear-shaped body: if you have a pear-shaped body, opt for an abaya that is wider at the bottom with tight sleeves.
A petite and straight body type: f you have a petite and straight body type, choose an abaya that has more layers.
If you are tall: opt for an abaya that is the exact length for your height. Avoid buying an abaya that is short.
Last but not least, the secret of the perfect outfit is all about feeling good and comfortable wearing it. Abaya is a part of daily life for many women. Buying a perfect Abaya is not a challenge anymore if you keep the factors we mentioned above in mind.
How to wash black abaya?
If you're wondering how to wash black abaya? the process is quite simple! Just as you would do with your regular clothes, separate and wash your abaya with similar colors. That way, you'll avoid colors from bleeding onto other fabrics and will prevent unwanted discoloration.
However, if your abaya is made from delicate fabric and have embellishments like sequins, it's important that you check the care label for the appropriate cleaning method.
Where I can buy abaya in Dubai?
Where I can buy abaya in Dubai? you might be asking! So, if you're looking for stylish abayas in Dubai, there are a number of shops you can consider. Starting from Dubai malls and shopping centers to a number of stores located in Al Hamriya and Al Rashidiya catering to all tastes and budgets.
On the same note, online shopping websites are all over the place as well. So, browse the internet and start searching for woman clothes Dubai, from the comfort of your home!
Finally, you have discovered everything you need to know about Abaya for women! If you're looking for an evening gown dubai for your next event or wedding dress Dubai for your big day, then make your way to Esposa bridal shop Dubai. Or simple check out Esposa online and choose your favorite dress. And if like any of these dresses, make sure to book your appointment and we will help you find what you desire! And now check out what is a smart casual dress code for women?