Creating bespoke
"lovestyles"
Specialized in reinventing the world of bridal fashion, Esposa bridal shop is committed to researching and developing new trends of wedding dresses for every bride. We create designs that cater to just what you're looking for: the passion prologue! From simple wedding dresses and beach wedding dresses to princess wedding dresses, and long sleeve wedding dresses!
Fashionable and modern, our designs are a perfect fit for the trendy bride. We offer custom-made bridal dresses made from our commitment to research with chic fabrics that can be adapted according to any style or taste! Whether you dream of a mermaid wedding dress or an elegant lace wedding dress, the best wedding dress designers like Milla Nova, Eva lendel, Plume by Esposa, Pronovias, Nicole couture, Marchesa Notte and many others will make your wedding dress dreams come true! So, if you're on the lookout for wedding dresses for rent in Beirut or wedding dresses for rent in Lebanon, visit Esposa bridal shop to check our latest wedding dresses Lebanon, wedding dress Dubai and our stores in KSA!
Timeless and elegant wedding dresses! Perfect for the classy and traditional brides! You can find your dream A- line wedding dress at Esposa Lebanon. An A-line wedding dress is universally known as the most flattering for all body types. Whether you're an hourglass shape, a pear shape, a rectangle shape or an apple shape, A-line dresses for women are there for the rescue!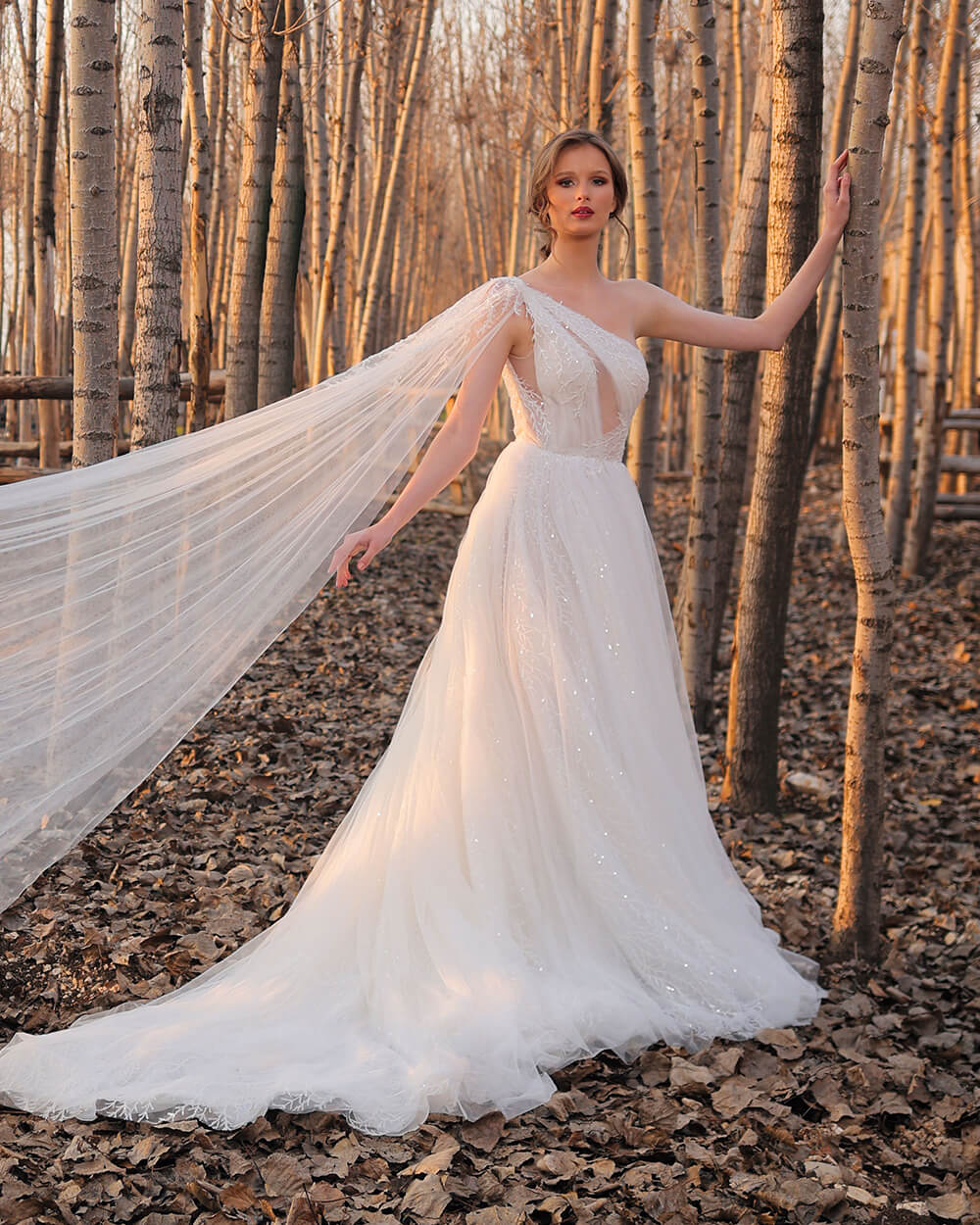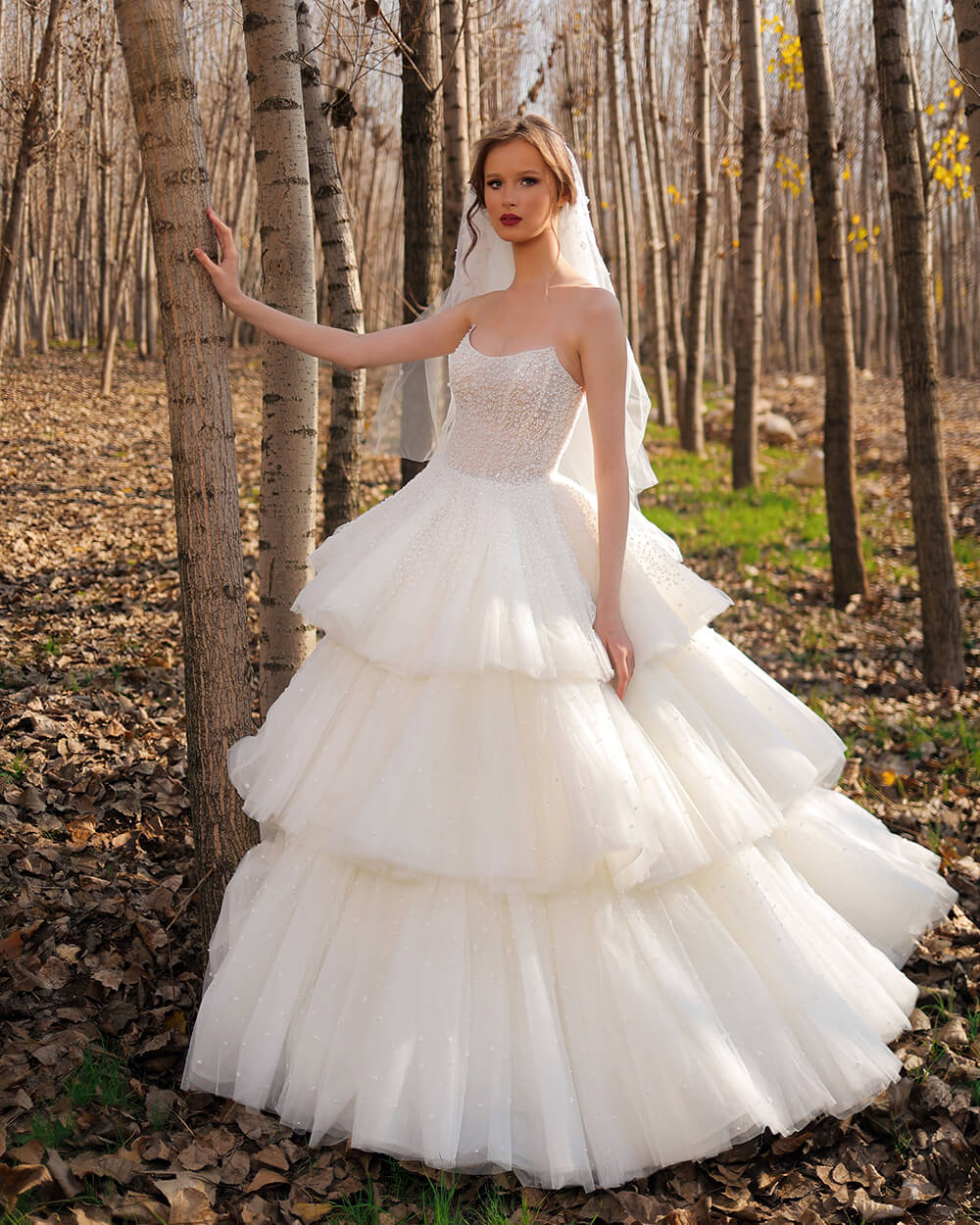 A popular choice of bridal dresses for those looking to make an impression. They have some sort of element which represents your personality! The most important thing to consider before deciding on a call gown, is the fact that these styles are not the most flattering on all body types, especially for an apple body shape as it might give you a heavier look! Visit Esposa Lebanon.
These wedding dresses have an earthy aesthetic that makes the bride unique and special while still being eye-catching at first glance. Bohemian wedding dresses are very popular if you're having a beach theme wedding or if you're planning on hosting an outdoor wedding reception. The flowy look and the lightweight fabrics make it the perfect option for looking stunning and feeling comfortable on the big day. You can find the best wedding dress at Esposa Lebanon or visit our stores to explore our selection of bridal dresses.
For the bride who wants to be whimsical and romantic, the mermaid wedding dress is perfect for you! However, not everyone can rock the sculpted bridal look as it can emphasize certain body part that you might want to hide. If you have an hourglass shape or a rectangle shape, then a mermaid dress will do wonders to your body. However, if you have a more rounded shape, it's best if you go for something other than a form-fitter gown. Visit Esposa Lebanon and get your dream mermaid wedding dress!
The straighter the dress, the hotter you'll look! Straight lines give your body a more figure-flattering hourglass shape! If you are into simple wedding dresses, Esposa bridal shop Lebanon is your destination! Visit our store to check out the most varied collections of wedding dresses and choose the one that compliments your body and your wedding theme!
Steal the show and find the perfect soirée gown for all your occasions and events. From bridesmaid dresses, prom dresses, mother-of-the-bride dresses to casual evening wear and stunning colorful gowns, we have got the ultimate designs for you to choose from. Discover a wide range of evening dresses and get the chance to find the perfect look.
Ready to find
your perfect dress?