Finding beautiful evening dresses to wear at your next event could be stressing our daunting. As there is so much variety in beautiful evening dresses that it can make finding the perfect dress exhausting sometimes.
However, when you find the right dress, you will feel like a diva in it. Not only will it be comfortable, but it will also bring out your best features and make you happy to show it off. On another note, understanding what type of dress is appropriate for an occasion can be a big hurdle, too. But this is not something to worry about, because we will guide you through the whole process! Now, are you ready to say yes to the dress?
Evening dresses in Dubai
If you're on the lookout for beautiful evening dresses in Dubai or for evening dresses online, then you're in the right place! At Esposa stores in Esposa Prive shops in Dubai, Lebanon, and Riyadh we have everything you need, from pretty prom dresses to gorgeous, luxurious evening gowns.
Are you a red gown lover? Thus, check out this sexy dress by Milla Nova! It's a form-fitted off-the-shoulder gown with a sweetheart neckline and a side slit that will give you a stunning look on your occasion. If you liked this dress, pay a visit to our Esposa stores and Esposa Prive bridal stores in Dubai or Lebanon, and Riyadh. Got no time to visit the stores? we've got you covered! You can shop this beautiful evening dress in the comfort of your home. Consequently, you just have to click on the following link: www.esposagroup.com, choose the dress you love, and have it delivered to your home!
A mermaid gown
How about a mermaid gown? It's no secret that mermaid gowns have been one of the most beautiful evening dresses for the last few years. If you're on the lookout for a mermaid gown then this dress by Milla Nova might be just what you're looking for! Ideally, this mermaid gown comes with an asymmetrical neckline, one long sleeve, featuring a side slit.
Furthermore, if you loved this dress you can shop it directly on our website. Or you can find it at Esposa stores and Esposa Prive shops in Dubai, Riyadh, and Lebanon.
Off the shoulder gown
When we say beautiful evening dresses, we mean off-the-shoulder evening gowns! These dresses give you a feminine touch, with an equally sexy yet elegant look!
Check out this silk evening gown with an off-the-shoulder neckline, cinched at the waist, and falls down in a flowy skirt with a side slit. Moreover, if you liked this dress by Wona Concept, do not hesitate to visit us at Esposa stores and Esposa Prive shops in Lebanon, Riyadh, and Dubai. As we will gladly help you choose the perfect evening gown for your next event.
Thus, you can also shop for beautiful evening dresses and also stunning wedding dresses online. All you need to do is visit our website, pick the dress you like, and order it! Your dream dress is one click away! What are you waiting for?
Black for a wild and sexy look
Black dresses are definitely the most beautiful evening dresses. They are sexy, elegant and suit every kind of occasion. So, if you're into black dresses, have a look at this black evening dress by Wona Concept.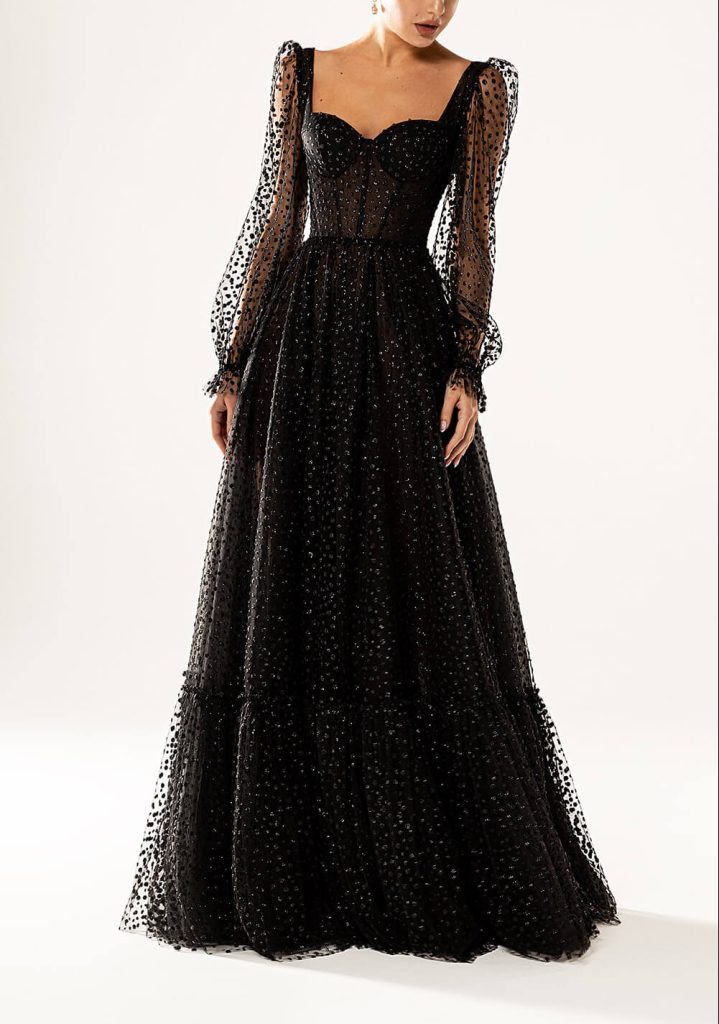 A mesmerizing evening gown with a sweetheart neckline, long sheer Juliette sleeves, and a long skirt! Additionally, it's fully embellished with shining sequins. Consequently, if you want this dress to be yours, visit our stores today, try it on and shop it for your next event! Or, just browse through our website, have a look at the evening dresses collections that are available in our stores, and choose the dress you like!
Tips to choose the perfect evening dress
Now that you got a glimpse of the most beautiful evening dresses in our stores, here are some helpful tips to choose the perfect evening dress!
Choose wisely for the occasion: Before you set out to choose an evening gown, consider which type of event you're planning to attend and its level of formality. Some evening gowns might be versatile enough to work for various events, but always keep in mind the event you will be attending when you go evening dress shopping.
Opt for the right fabric: The way a fabric drapes around your body and its natural flow will affect the overall effect of the dress. So, choose a fabric that is suitable for your structure and height. If you are skinny, a fabric that clings to you may make you look even thinner. For bulky brides-to-be, a crisp material like tulle may add extra pounds to your look.
Finally, what better way to attend an occasion than in style? The most beautiful evening dresses and wedding dresses are here for you! Visit our stores today! And now check out the top 5 designer clothes for weddings!