When it comes to the fashion world, everyone can agree that Zuhair Murad has raised the bar high! A-list celebrities from all over the world have pranced around the red carpets wearing his masterpieces and catching the flashing lights of paparazzies. If you're anything like me, you've probably waited in front of the TV, browsed though the magazine pages and surfed the internet to find to check out his newest creations. And who wouldn't want to walk down the aisle in a one-of-a-kind Zuhair Murad creation? On that note, you can now find your Zuhair Murad dress in UAE and in KSA exclusively at Esposa Privé and Esposa stores!
1- Meet Adele, a beaded masterpiece!
When we say full glam, we mean FULL GLAM! Adele by Zuhair Murad is definitely bring that A factor every bride seeks. Showcasing an off-the-shoulder style with a sweetheart neckline, a tight corset cinching in your waist for a feminine vibe. The dress then cascades down in a voluminous ivory skirt, designed with two large pleats on both side, adding to its majestic feel.
Now for the fun part, sparkles! The beautiful designer wedding dress is fully beaded with beaming glitters and beads, mimicking a constellation in the mid-night sky!
This alluring wedding gown is available at Esposa boutique in Riyadh, so be sure to book your appointment to check it out!
2- Arianna, a starlit sky!
Moving on to yet another showstopper: Arianna!  This one is for the brides who want to look and feel like a queen on that special day. So pretty much all of us! It brings out your femininity in this off-the-shoulder neckline with a small V, a tight corset bodice. It's paired with a voluminous skirt falling down as though in a straight style, them flares out in an almost over-skirt of ivory tulle.
What makes this bridal gown special though is that it's fully embellished with neutral colored sequins and beads, reflecting every bit of light that hits it! All eyes will definitely be on you while you enter the room!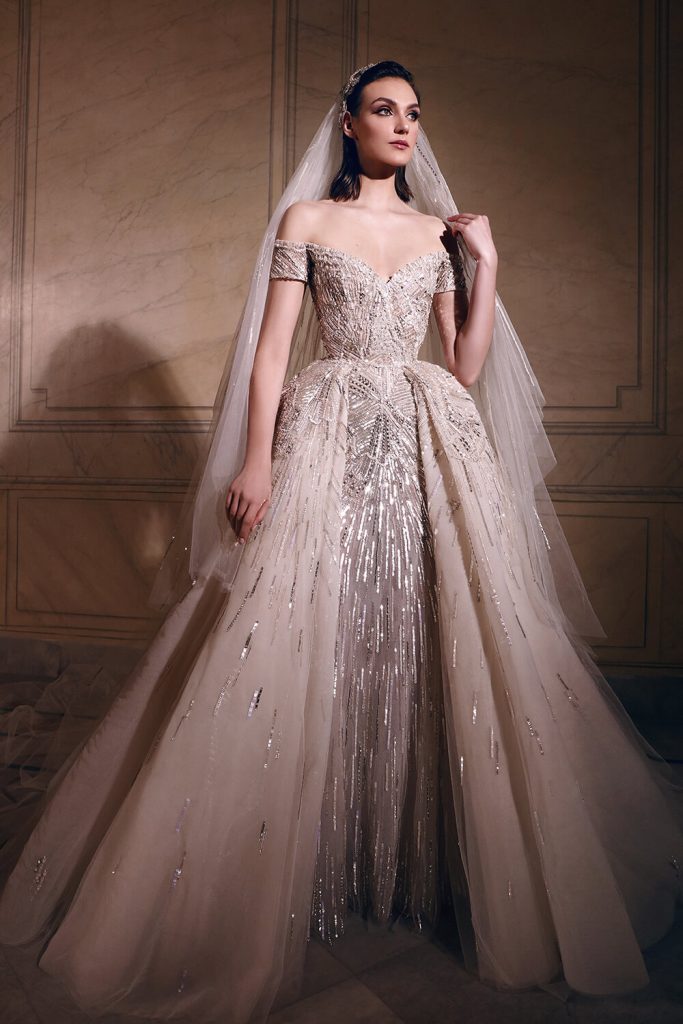 You can now find this captivating sequins wedding dress at our new bridal showroom in Riyadh!
3- Anais, Simple yet Glam!
Still on the glamorous side, we bring you Anais! This Zuhair Murad gem is a strapless straight across neckline with a tight bodice and a full A-line skirt. The corset is fully embellished in sequins in both gold and silver with crossed lines all over, fading half-way down the skirt. This elegant dress is perfect for the bride-to-be looking to make a statement but still keep it simple and classy.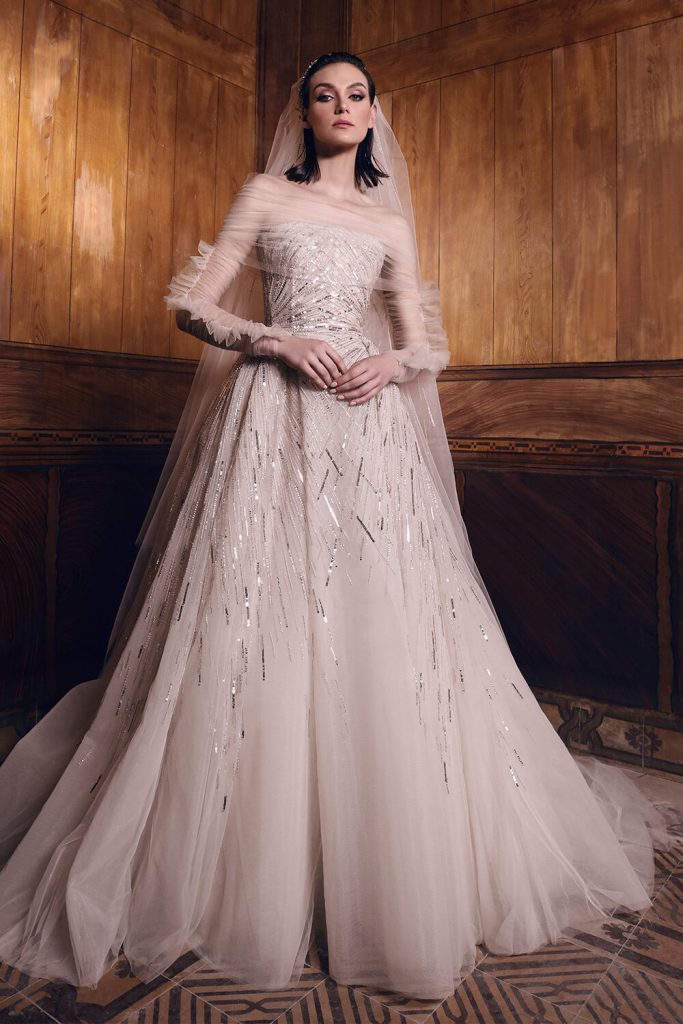 If you fell in love with Anais and you think it might be the one, then head over to Esposa Privé in Dubai and say Yes to this stunning dress!
4- Introducing Ariane, the edgy queen!
Now, some brides prefer to style on the simpler side and pass on the glitz and glam when it comes to her wedding dress. That's totally fine as long as that's what makes her look and feel beautiful and comfortable. If you're that bride, then we highly advise you to check out Zuhair Murad 2023 bridal collection! So, if you want a simple dress but with a modern twist, check out Ariana at Esposa Privé Dubai!
This asymmetrical neckline gown features an over-sized bow on one shoulder and a strapless style on the second. The corset sculpts your waist perfectly then cascades elegantly in a pleated A-line skirt with a sexy high side slit. To add an extra touch to this elegant look, another over-sized bow decorates the back of the skirt!
5- Meet Aimee, sophistication and class
If you prefer a sleek, clean white look then Aimee is your go to choice! Presenting an off-the-shoulder neckline with pleated thick straps, a crossed bodice and a tight corset. The dress flows elegantly in an A-line skirt featuring box pleats on the sides. This elegant simple gown is one of the most popular wedding dresses in 2023 as brides are getting more and more oriented towards simpler styles. What's perfect about this dress is that you can easily elevate the look with the right choice of jewelry and an embroidered, beaded veil!
How inspiring and glamorous are these stunning Zuhair Murad wedding dresses? You can now live your red carpet interview dreams and say "I'm wearing Zuhair Murad"! Who wouldn't want to look as stunning as Jennifer Lopez did in her Zuhair Murad wedding dress in her movie Marry Me? Head over to our website and discover the full Zuhair Murad collection, then book your appointment to ay Yes to your dress!
About Esposa Group:
Born out of a couple's passion for the bridal industry, Esposa Group has been weaving love stories through stunning bridal and evening creations since 1987 on the hands of the Romanos family.
Collaborating with the best local and international brands, Esposa Group includes Esposa Privé luxury stores showcasing the works of the best fashion designers worldwide including Monique Lhuillier, Vera Wang, Viktor and Rolf, Marchesa and Esposa Privé own couture brand, Esposacouture by Kristie Romanos, and Esposa stores offering an accessible multi-brands wedding and soirée collection in addition to its own couture brand, Plume by Esposa.
The stores are located in Lebanon, Dubai United Arab Emirates and Riyadh Saudi Arabia offering every bride-to-be a one-stop shop to find her perfect wedding look, from her dream gown to her wedding shoes, accessories and bridesmaids dresses.