Keep this in mind: the wedding dress you wear on your big day will become the main focal point of your wedding. While shopping for wedding gowns, you'll most probably be faced with challenges and pressure to find the one. You'll want to look beautiful of course, but also unique and one-of-a-kind. For that specific reason, I always recommend browsing those designer dresses collection because that's where you'll find the one! Designer wedding dresses are primed to have such a unique spirit and designs, making every bride her own masterpiece. In that regard, here are some of the top designer bridal gowns that will make you shine bright, as you should!
1- Zuhair Murad wedding dresses
Zuhair Murad is one of the most recognized names worldwide. A Lebanese designer who crafts such individualized pieces that took over the red carpets by storm! When it comes to bridal dresses, you can always count on Zuhair Murad dresses to turn you into a modern time Cinderella.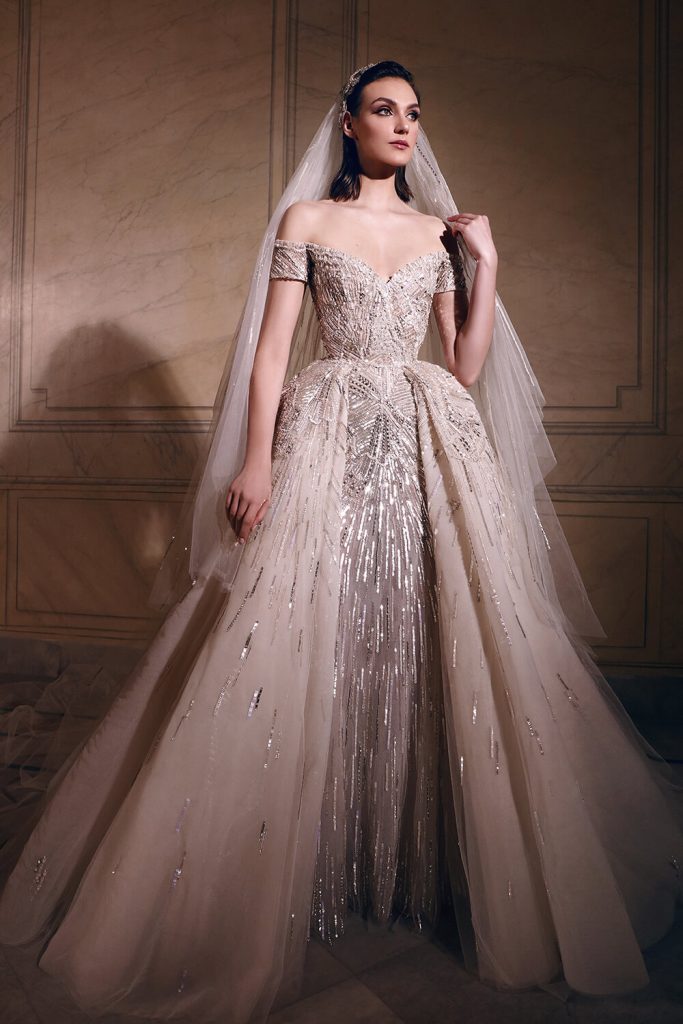 Do we even need to explain how majestic that looks, and probably feels?! An off-the-shoulder wedding gown with long sheer sleeves, fully embellished and embroidered with delicacy and expertise. This gown reflects the Arabic spirit, all while maintaining a modern touch in its designs. What makes it even more special is the versatility of its designs. You can choose to wear it as an A-line dress as seen in the picture above, or wear it as a mermaid dress by removing its over-skirt. This style is perfect if you want to change styles between the reception and ceremony.
2- Esposacouture by Kristie Romanos
Moving on to another Lebanese designer with Esposacouture by Kristie Romanos. Esposacouture not only offers you unique designs, it also provides modern looks, perfect for a bride who wants to step out of her comfort zone. This brand is known for its stunning wedding dresses, colorful designs and contemporary flair. The latest collection for 2023 features works of art that will definitely make every bride fall in love and say Yes immediately!
An A-line dress with a Majestic spirit accentuated with three dimensional colored sparkles, balancing between the sheer and the blush, a merge of gold and silver. This mesmerizing blush wedding dress with gold details can make a perfect attire for a stylish bride. Not really into color wedding dresses? No worries, we've got Travis in an off-white color as well!
You know what the best part is? If you want an even more unique wedding gown, you can always design your own through our Esposa Atelier! You'll get the chance to meet the creative director of Esposacouture Kristie Romanos, and together you'll design your dream dress!
3- Ines Di Santo Bridal Collection
Another designer brand that will definitely steal the show is Ines Di Santo.  An international renowned bridal fashion designer, unapologetic romantic who took the bridal realm to a whole new level! Ines Di Santo is a brand that offers unique custom made wedding dresses, catering to all styles and tastes. The stunning designs making it distinctive and individualized showcases a combination of traditional styles and modern spirit.
A sexy A-line bridal dress with a plunging V-neckline, paired with a ruffled skirt for extra volume. This dress offers you a dreamy look with a modish style with the combination of feminine floral lace and edgy voluminous ruffled skirt.
Related topic: 5 Reasons to Go for That Luxury Wedding Dress
4- Lazaro Bridal
Next on the list is Lazaro bridal collection presenting amazing peculiar creations. This year's collection highly emphasizes the feminine side of bridal wear by featuring corsets in their designs. If you're a classic bride and looking for a romantic wedding gown, then Lazaro collection is the one for you!
A beautiful corset bodice with a low waist, paired with a satin skirt and thick straps. The dress can be considered different with its blush color and edgy yet simple design. I personally would recommend this dress for the brides that are too afraid to step out of their comfort zone. It's the perfect combination between a traditional gown, but with a modern twist.
5- Monique Lhuillier Wedding Dresses
Last but certainly not least, Monique Lhuillier bridal collection. If you're familiar with her designs, you'll probably figure out which type of brides will lean towards this designer. Floral lace with long sleeves for sure a Monique Lhuillier signature. So, for all the hopeless romantics out there, splurge on a Monique Lhuillier bridal dress trust me, it's worth every penny!
High-neck with sheer long sleeves covered in floral patterns of the finest lace fabrics. This fit-and-flare gown is definitely a jaw-dropper as it showcased your femininity and hugs your body in all the right places. Cinching in your waist and curves, it flares out dramatically and cascades in a chapel train fir that royal look all brides seek.
Now that you've seen some of our top designer dresses picks, will you be treating yourself for a unique look on the big day?
About Esposa
With a presence spanning over 30 years, Esposa is a luxury bridal boutique offering every bride-to-be a one-stop shop to find her perfect wedding look, from her dream gown to her wedding shoes and the accessories she needs.
Esposa Group includes the Esposa Privé stores located in Downtown-Beirut and Dubai where bridal creations offer the choice between a multi-brand selection showcasing the works of international designers including Viktor and Rolf, Vera Wang, Monique L'huillier, Marchesa and Esposa Privé's own couture brand, Esposacouture, as well as a wide evening segment and a selection of shoes and accessories. Esposa Group encompasses also the Esposa boutiques located in Lebanon (Dbayeh and Ramleh Al Bayda), and Dubai, showcasing a multi-brand bridal collection in addition to its own couture brand, Plume by Esposa, an evening segment, and a selection of shoes and accessories.