Long sleeve wedding dresses have been always the number one choice for every bride-to-be planning her wedding. For many, the long sleeve wedding dresses are a top priority for these wedding gowns are timeless yet they still speak to their personality.
Finding a classic gown that nods to your style is the most reliable way to ensure you'll feel in your own skin on the big day. And one gown that checks off these boxes is the long sleeve wedding dress!
1- Your favorites for centuries
Sleeved wedding dresses have been a favorite for centuries thanks to their versatility and elegance. While you might be considering a dress that covers up your arms as a more conservative look, many fashion designers have proven that full length sleeves can go a lot of ways!
Ranging from intricate lace sleeves to ethereal tulle all the way to sleek satin, you'll definitely find so many choices that suit your style and body type.
2- Off-shoulder Bridal Gowns
If you want the long-sleeved look but want to show off a little more skin, an off-the-shoulder gown is the way to go! This amazing pick is alluring and universally flattering.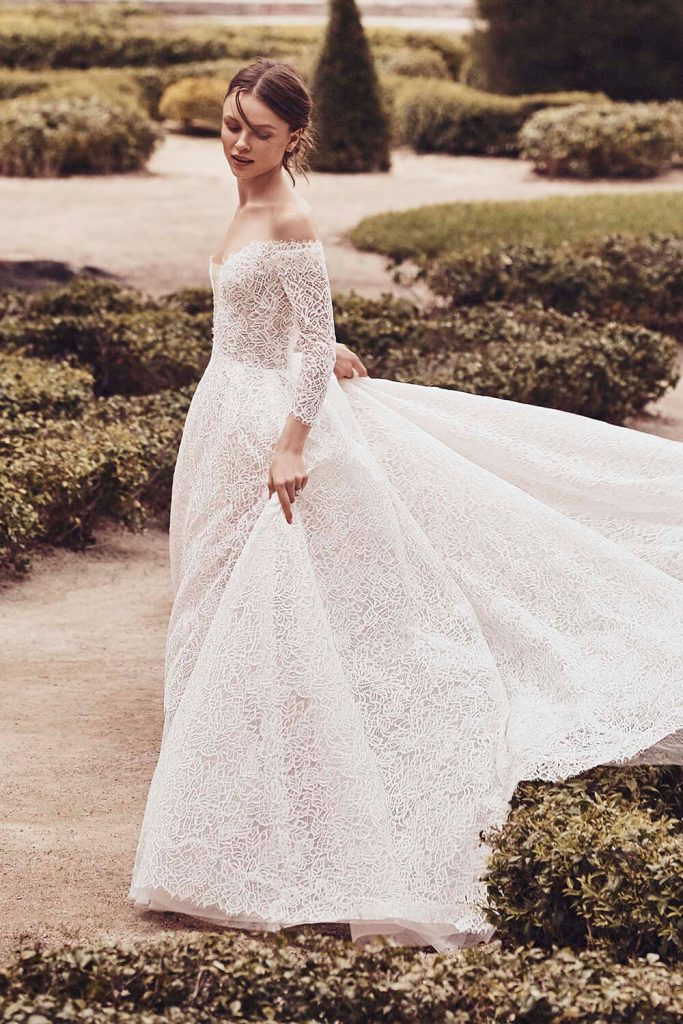 Check out this mesmerizing long sleeve wedding dress by Eva Lendel! With an off-the-shoulder bodice, sweetheart neckline and long bishop sleeves, paired with a light tulle skirt!
2- Lace Sleeves
Elegant and flattering, lace full length sleeves wedding dresses are a wonderful option for every bride to be. Whether you choose to have an entire gown made with delicate fabric or you would rather opt for a small feature or a detail, this is a design that will stand the test of time.
It's a versatile option for the brides who wish to wear long sleeves, and with material so beautiful and classic, you'll be the most unforgettable bride.
A long sleeves wedding dress with an off-the-shoulder neckline and long lace sleeves. It flows down in a silk skirt with pockets on the sides giving you the perfect opportunity for your heels to shine. Opt for this wedding dress by Pronovias bridal collection at Esposa.
3- Romantic look
This long sleeve wedding dress checks off all the boxes with its fabrics and design! Fitted at the natural waist, with a spectacular full mermaid skirt covered with thread embroidery.
Femininity is accentuated with illusion necklines that cover the shoulders and delicate long sleeves creating a second-skin effect. A dress full of nuances to emphasize and dress up a very romantic bride. Visit www.esposagroup.com and shop Chiara wedding dress!
4- Most Timeless Wedding Dresses
If you're looking for something subtly out of the ordinary, check out Angelina wedding dress with lace long sleeves, a turtle neckline with illusion bodice covered in floral lace. 
5- Sheer sleeves for the Win!
If you want the effect of long sleeves but without the added weight, we recommend you try sheer ones. Check out this midi wedding dress with a sheer turtleneck bodice and voluminous Juliette sleeves. Embroidered with small lace details and paired with a plissé tulle skirt, it's the number one choice for the fairytale brides!
Choose Liberty long sleeve wedding dress  by Pronovias bridal collection!
6- Are long sleeved wedding dresses flattering?
It's no denying that long sleeved wedding dresses are incredibly chic and flattering. However, you've got to take into consideration that the style needs to be altered to fit your arms perfectly because if not, it won't look good and will be uncomfortable.
7- Steal the spotlight on your big day
Finally, you will definitely want everyone's eyes sparkle as you walk down the aisle in a bridal gown worth talking about. Fabric that covers your arms is a classic, stylish and a great option for any bride to be, no matter your aesthetic.
These designs create the perfect look for every woman on her big day. From princess-style puffy sleeves to square necklines, you had a look at some of the most awe-inspiring long sleeve wedding dresses that are perfect for any bride. Visit www.esposagroup.com and discover our bridal collection online, or visit Esposa bridal shops in UAE, Riyadh and Lebanon and find your dream wedding gown that will be the talk of the town!
A reminder for all brides-to-be out there, you are only brides once so make that day as awe-inspiring as your wedding dresses! And now Discover the best fabric for wedding dress!
About Esposa Group:
Born out of a couple's passion for the bridal industry, Esposa Group has been weaving love stories through stunning bridal and evening creations since 1987 on the hands of the Romanos family.
Collaborating with the best local and international brands, Esposa Group includes Esposa Privé luxury stores showcasing the works of the best fashion designers worldwide including Monique Lhuillier, Vera Wang, Viktor and Rolf, Marchesa and Esposa Privé own couture brand, Esposacouture by Kristie Romanos, and Esposa stores offering an accessible multi-brands wedding and soirée collection in addition to its own couture brand, Plume by Esposa. The stores are located in Lebanon, Dubai United Arab Emirates and Riyadh Saudi Arabia offering every bride-to-be a one-stop shop to find her perfect wedding look, from her dream gown to her wedding shoes, accessories and bridesmaids dresses.