Every bride looks for the perfect wedding dress that will make her look like a princess on the most important day of her life. Also, a lot of fans look up for inspiration from celebrity weddings in terms of theme, decoration, glam but most importantly focus on their wedding dresses. They love their styles and want to look exactly like them. For this reason, we present to you in the below article, the top celebrity wedding dresses that were considered iconic.
1- Kate Middleton Wedding Dress
Kate Middleton, the Duchess of Cambridge, wore a long white bridal gown at her wedding to Prince William at London's Westminster Abbey on the 29th of April 2011. Her dress was designed by Sarah Burton, the creative director of the luxury brand Alexander McQueen. The dress was a combination of classic and modernity and costed 250,000 Euros. Moreover, it was a lace applique bodice with a V-neckline and long lace sleeves. The dress was also made of satin fabric and the train was about 8.85 feet long. In addition, her mid length veil was decorated with hand-embroidered flowers. It is considered one of the most talked about royal wedding dresses of recent years.
2- Grace Kelly
Grace Kelly wore a very elegant bridal gown designed by Helen Rose of MGM. The dress was made up of a bodice with an attached under-bodice and skirt support. Furthermore, it had a high neckline, long sleeves and multiple petticoats. The fabrics that were used for designing the dress are silk taffeta, silk net, peau de soie and tulle. It still inspires a lot of brides until today.
3- Meghan Markle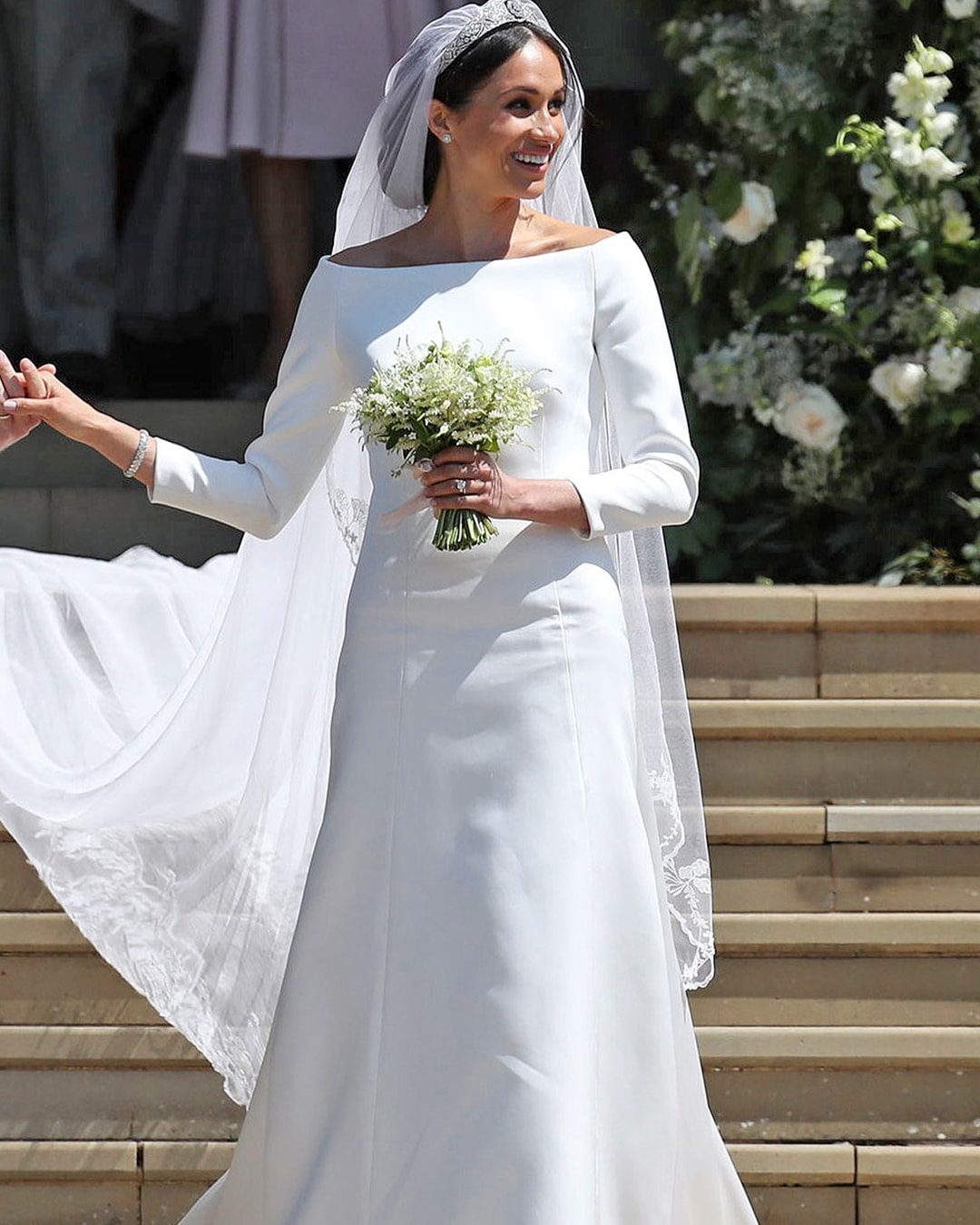 Meghan Markle, the Duchess of Sussex, wore a simple white bridal gown at her wedding to Prince Harry on the 19th of May, 2018. It was designed by Clare Waight Keller, the director of the fashion house Givenchy. The dress was made of silk fabric with three-quarter-length sleeves and had a boat neckline. Also, it was designed with a built-in triple silk organza underskirt. Markle's dress was a mix between elegance and simplicity and had no embellishments. In other words, it had no tulle nor lace which made it unique and fantastic.
4- Priyanka Chopra
Pryanka Chopra, the famous Bollywood actress, wore an iconic wedding dress designed by Ralph Lauren. It was a long dress with scalloped sleeves and a hand-embroidered coat with a high neck. The coat was made up of 32000 pearlescent sequins, Swarovski crystals and seed beads. The dress also had 8 personal phrases that are personal to Priyanka such as family, hope and love. In addition, it had a 75foot veil which was stunning.
5- Kim Kardashian
Kim Kardashian wore a long white elegant wedding dress at her wedding to Kanye West in 2014. The dress was a lace gown with long sleeves designed by creative director of Givenchy, Riccardo Tisci. It looked like a tight-fitting mermaid silhouette and costed around half a million dollars.
6- Serena Williams
Serena Williams wore a strapless belted ballgown by Sarah Burton, the creative director of the luxury brand Alexander McQueen who also designed Kate Middleton's dress. Serena Looked like a princess in her beautiful dress.
7- Sofia Vergara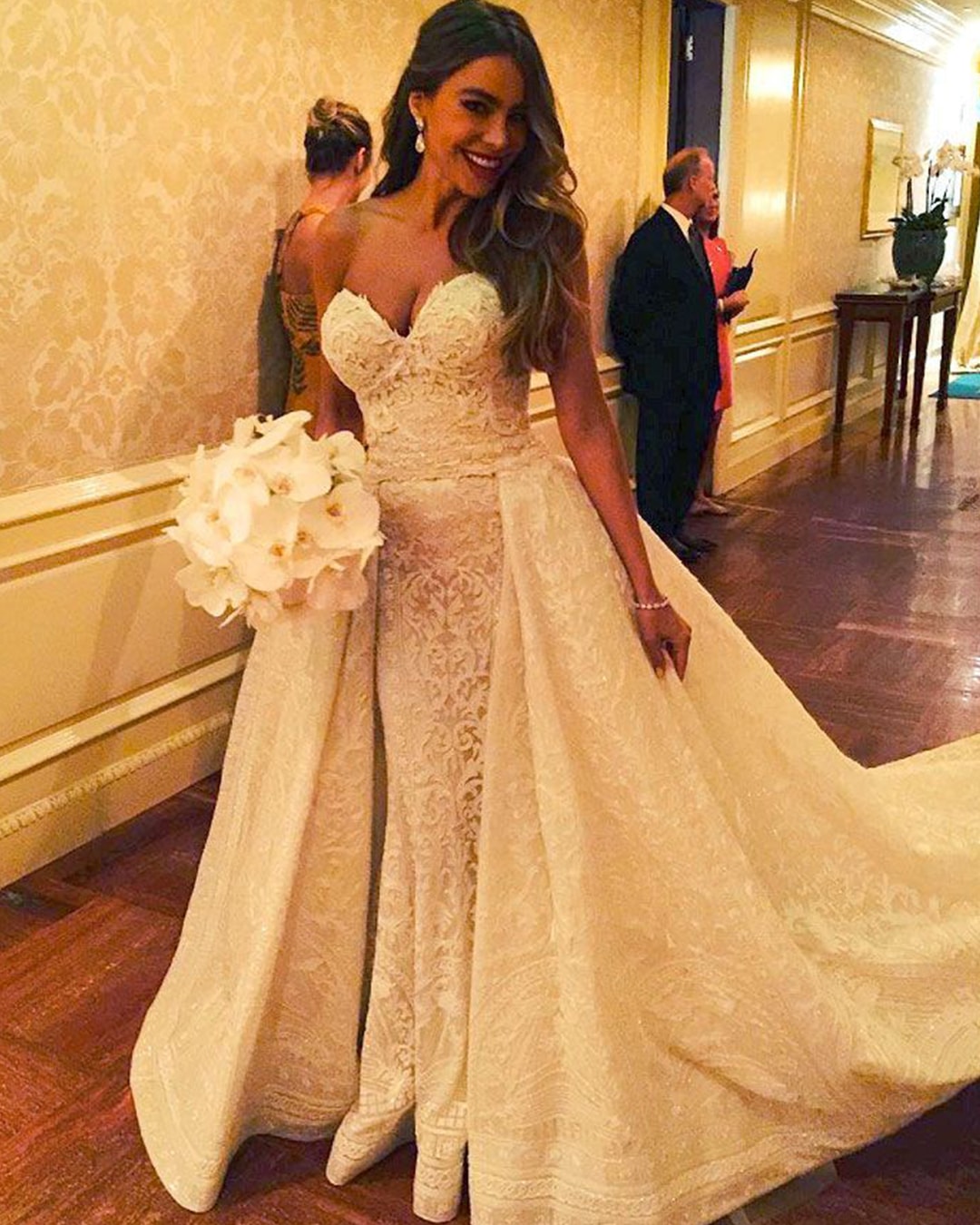 Sofia Vergara, a famous actress, wore a beautiful wedding gown designed by the Lebanese designer Zuhair Murad. She wore a strapless dress with a sweetheart neckline and a sheath skirt. A matching ball gown overskirt topped the dress at the level of the waist which gave her a princess look.
8- Ivanka Trump
Ivanka trump, an American businesswoman, wore a custom-made wedding dress designed by Vera Wang. It was inspired by Grace Kelly. The dress had three-quarter sleeves with layers of Chantilly and lace. It costed about 50000$.
Finally, each celebrity has her own fashion taste and their bridal gowns differ in style, fabric, neckline etc. Also, their wedding dresses are designed especially for them by most famous fashion houses and brands. From the list of the top celebrity wedding dresses above, which celebrity in your opinion wore the most beautiful wedding dress and whose style do you like best?
About Esposa
With a presence spanning over 30 years, Esposa is a luxury bridal boutique offering every bride-to-be a one-stop shop to find her perfect wedding look, from her dream gown to her wedding shoes and the accessories she needs.
Esposa Group includes the Esposa Privé stores located in Downtown-Beirut and Dubai where bridal creations offer the choice between a multi-brand selection showcasing the works of international designers including Viktor and Rolf, Vera Wang, Monique L'huillier, Marchesa and Esposa Privé's own couture brand, Esposacouture by Kristie Romanos, as well as a wide evening segment and a selection of shoes and accessories. Esposa Group encompasses also the Esposa boutiques located in Lebanon (Dbayeh and Ramleh Al Bayda), and Dubai, showcasing a multi-brand bridal collection in addition to its own couture brand, Plume by Esposa, an evening segment, and a selection of shoes and accessories.